2013
Pinatopia & Mount Folly
Harold Offeh
Offeh's Pinatopia is an ostentatious display of wealth and power, with roots in empire and capitalism, centred on the pineapple as a status symbol in the eighteenth century. Through a playful spectacle, reminiscent of Carmen Miranda's exuberant carnivalesque performance in The Gang's All Here (1943), Offeh exchanged the modern banana for the baroque pineapple that was historically grown in hot houses at Temple Newsam. Having had a taste of Pinatopia in the walled garden, at dusk, audiences were escorted towards the ornamental temple folly to bear witness to Mount Folly.
Staged at Temple Newsam House, the work brought together an extensive research and workshop period with The Follies of Youth, a group of young people who explored the history and politics of Temple Newsam House. The work was supported by Heritage Lottery Fund.
Following its presentation at Temple Newsam, the work was re-presented in Leeds city centre as part of Light Night 2013.
Pinatopia & Mount Folly, Harold Offeh, 2013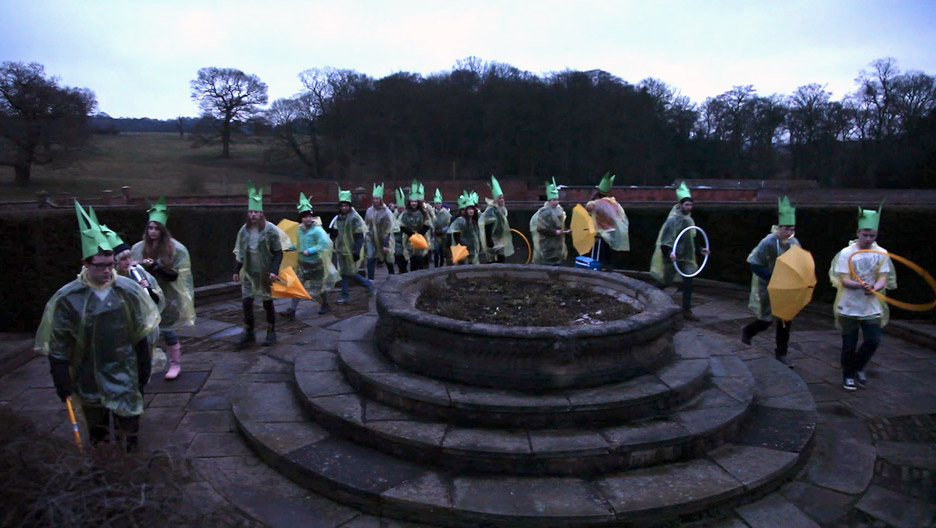 Pinatopia & Mount Folly, Harold Offeh, 2013